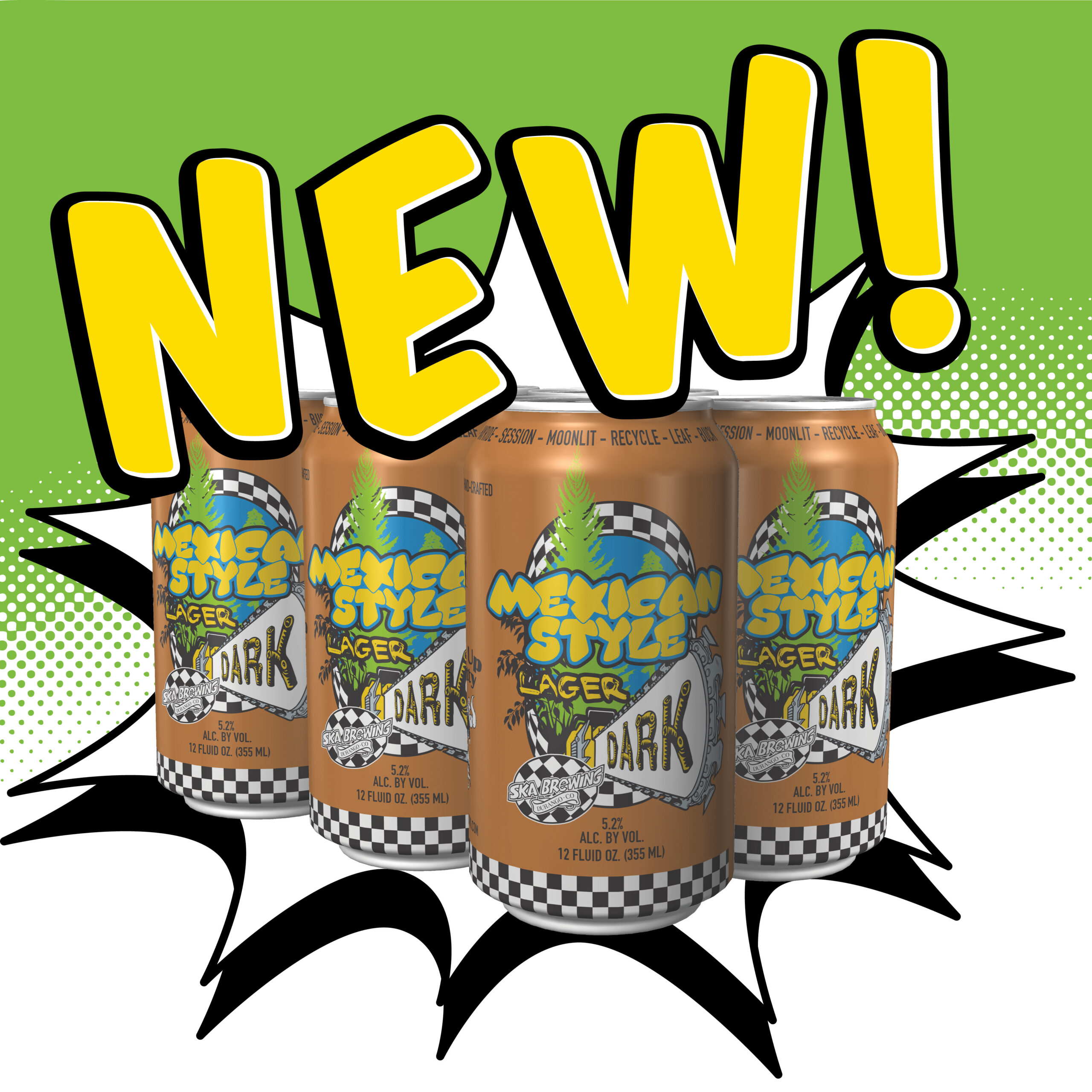 Ska Brewing Co. releases dark version of a favorite beer
Date: December 30, 2020
Author: Nick Gonzales
Source: Durango Herald
Ska Brewing Co. releases dark version of a favorite beer
Since 1999, one of the sure signs that it's spring or summer in Durango has been Ska Brewing Co.'s Mexican Logger on the shelves. After all, those were the only seasons in which you could purchase the seasonal beer.
Its limited availability combined with its quality – the brew has won awards at beer fests including the Great American Beer Festival and the Los Angeles Beer Competition – have made it one of the beer world's favorite Durango exports and the subject of a significant amount of hoarding.
But as of Jan. 5, changing seasons will no longer signal whether Ska has a Mexican lager — it will only determine what variety. The first Tuesday in January will signal the release of Ska's new Mexican Style Lager Dark, a winter seasonal beer that will be available whenever Mexican Logger isn't.
The new brew has been in the works for about three years, said Steve Breezely, Ska's chief operating officer and brewmaster. The first experimental batch of dark lager was brewed three years ago, but left much to be desired. Eventually, Trevor Lovato, one of Ska's lead brewers, put down the template that the team developed into Mexican Style Lager Dark.
The main difference between the dark lager and its summertime predecessor is right in its name: It's a darker beer. If one were to compare it to their Mexican-import macrobrew equivalents, if Mexican Logger is made in the same style as Pacifico, Mexican Style Lager Dark is its Negra Modelo cousin. But neither beer is a simple copy of the larger brand.
"In this case, we're using some really nice, fun, German malts," Breezely said. He noted the presence of Carafa III, a very dark malt roasted in a way to minimize its astringency, from Weyermann, which Breezely said is the best German maltster Ska can source ingredients from in this country.
The beer also finds its roots in German hops – the same ones in Mexican Logger – and a bit of American Cascade hops, which add a bit of a citrus component. The yeast strain is also the same one Ska uses in the summer lager.
If the multiple mentions of Germany in the roots of a Mexican-style beer are confusing, it's time for a refresher on Mexican History. Austria's Maximilian I declared himself the emperor of Mexico in 1864, and brought his country's then-new Vienna lager, and the German and Austrian brewers who made it, with him. Mexico executed Maximilian in 1867, but the country liked the beer, which grew and evolved into the dominant style by the time the 20th century rolled around.
When it comes to flavor, Mexican Style Lager Dark is ever so slightly more dark and wintry than Mexican Logger.
"It has really nice caramel and toffee, and really, really light coffee notes. I hesitate to use the word 'coffee' because it can sound astringent, but it isn't," Breezely said. "I hate using 'caramel' and 'toffee,' too, because they sound cloying. It's not."
He said that, like Mexican Logger, the beer pairs well with Mexican cuisine and is a great beer when served on draft.
The roasted coffee notes come across more in the beer's smell than its taste, said Kristen Muraro, Ska's sales and marketing director.
Breezely said the beer has a crispness to it and a high degree of crushability – it's easy to drink more than one in a sitting. He forsees it making its way into many a backpack as people head into the outdoors on winter adventures. Like Ska, the dark lager has an ABV of 5.2%.
"I think there's just been this desire to have a more a lager for the winter months," Muraro said. "You know, Euphoria is great, people love it. But there was a need for a more kind of easy-drinking style lager for the wintertime."
Traditionally, Euphoria Pale Ale has been Ska's winter seasonal beer, replacing Mexican Logger on the shelves. Euphoria is a local favorite, but doesn't always translate as well in other markets, she said. People are a bit more skeptical of a beer with a snowflake on the can in, say, Arizona.
In the future, Mexican Style Lager Dark will likely come out in October, when Mexican Logger usually goes away. This frees Ska to release Euphoria independent of that schedule. The new beer will be available wherever Ska is sold.
The beer is the fourth lager in Ska's portfolio. In addition to Mexican Logger, the brewery also makes Oktoberfest, a German-style lager, and Rue B. Soho, a grapefruit lager. Even before the COVID-19 pandemic, Breezely said, there was a growing movement of people taking an interest in relatively familiar, easy-drinking styles of beer, and the current situation has only increased that. As such, he said, this felt like a good time to release the beer.
In mid-December, Ska also released Chasing Gremlins Barrel Aged Imperious Stout. The strong, 18.5% ABV beer has had a much more limited distribution – it can definitely be found Ska's Durango headquarters – and was aged at Ska Street, the Boulder-based brewstillery the company formed in cooperation with Peach Street Distillery. The stout was aged in bourbon barrels and was flavored with vanilla and maraschino cherries.
ngonzales@durangoherald.com